As the owner of this website, I have searched out some special deals for some of the products and services mentioned herein. When you use the links on this page to make a purchase, I will receive a small commission at no extra cost to you. All opinions remain my own. Full disclosure.
…
There is nothing like a good puzzle to pass the time. For me, it is one of my favorite things to do on a rainy day. But did you know that building a puzzle is not only just a fun thing to do, it develops many skills? Puzzles are a great toy to get for your children as they provide a stimulating, educational experience. In this article, I will tell you about 5 different skills your child will gain simply by putting together a puzzle and how you can boost a child's learning with puzzles.
1. Fine motor skills
When your child is working a puzzle, he has to grasp the pieces in order to place one in the space. This involves the small muscles in the fingers, hands, and wrists and so it is developing those "fine motor skills." Early development of these smaller muscles in this area will help your child hold a pencil much easier and improve his writing skill. Not only writing skill is being developed, but fine motor skills are used in dressing yourself, feeding yourself, and being able to use a zipper.
2. Hand-eye coordination
Putting a puzzle together involves a lot of hand-eye coordination. The pieces are scattered around the table and you have to look at them all noticing the different shapes. Then, you have to look at the partially completed puzzle on the table and see what puzzle piece will fit into what area that is open. By doing this, the brain is being trained to coordinate what the eyes are seeing to the movement of the hands. Thus, hand-eye coordination is being developed.
3. Visual perception
Visual perception is not what the eyes see, but how the brain reads what your eyes are seeing.
Building a puzzle helps to develop this as you have to look at the different colors, shapes, and sizes and try to fit them in the puzzle. Visual perception is a skill needed for learning to read and this is a way to develop that skill.
Don't confuse visual perception with visual acuity. Visual perception is how your brain understands what you see while visual acuity is how well your eyes see.
4. Memory
Memory is being developed as your child is working on the puzzle. It is being used to remember shapes, sizes, colors, and visualizing where the pieces fit in. When we use our memory, we are using both sides of the brain.
5. Problem-solving skills
Yes, you read that right! Toddlers can learn early on how to problem-solve. This is done when looking at the pieces and trying to fit them in by trial and error.
What are the best first puzzles?
For your toddler who is 2 years old, wooden large puzzles are best. They usually will have simple designs and have either ABCs, animals, or 123s. They are simple to put together for you and I, but provide an adequate challenge for your toddler.
This is a great time to start working with your child with this type of puzzle and before long, he will be putting them together himself and developing the skills listed above.
Here is an example of a great puzzle pack:
You can check the price here and purchase too!
7 Pack Wooden Puzzles for Toddlers 1 2 3 4 Years Old – 7 Colorful Chunky Wood Peg Puzzles for Kids ages 1-4, Alphabet Shape Numbers Fruits Sea Animals Dinosaur Zoo – Educational Toddler Learning Toys
This puzzle pack has 7 very colorful and educational puzzles. Your little guy or gal can learn the alphabet, learn numbers & geometrical shapes, explore animals in the jungle and a sea world. Dinosaurs are also a part of this learning experience.
The puzzles in this pack are made out of wood and are 6 mm thick. The puzzle is painted with non-toxic paint.
These puzzles will stimulate creativity, develop problem-solving skills, hand-eye coordination, concentration and improve visual perception.
Another great set for 1 to 3 year-olds:
Click here to check price and/or you can purchase here too!
Springflower Wooden Toddler Jigsaw Puzzle Gift Toy for 1 2 3 Years Old Boys and Girls,6 Pack Animal Shape Montessori Toy for Infant,Toddler Sensory Toy,Fine Motor Skill Early Learning Educational Gift
Each puzzle is 5.8 x 5.8 x 0.6 inches.
Your toddler can learn shapes, colors, and math symbols at the same time.
These puzzles are 6 flashcards that will help toddlers learn where objects belong and how they go together.  The flashcards are a bear, butterfly, ladybug, owl, snail, and bee. 
This puzzle set will encourage the development of your toddler's hand-eye coordination and attention span. And it is also great for toddlers to work on both fine motor skills and problem-solving skills.
Kids 2 – 5 years of age
Wooden Puzzles for Kids Ages 2-5 – 24 Piece Puzzle for Toddlers Preschool Kids Jigsaw Puzzles – 4 Pack Vibrant Children Theme Learning Educational Puzzle Set for Kids 2 3 4 5 Year Old
This 4 pack wooden puzzle is for the next age group and will be slightly more challenging. The themes are under the sea, farm, safari, and insect.
For ages 4 and up
Check the price here and purchase the Rainforest Search and Find Puzzle!
Rainforest Search & Find Puzzle
This puzzle is for slightly older kids starting at age 4 and up. It measures 23" x 15.5" so it doesn't require much space to put together. The really neat thing about this puzzle is that after it is put together, your child can look for more than 40 animals, insects, and plants native to the rainforest hidden in the puzzle image.
Other options
In a prior post, I wrote about toys to help stimulate development for autistic children. The toys in that article can also be used by other children as well and include the ever-famous "LEGO" building sets. Please see and click here for "Toys for Autistic Kids."  
See here for some special discounts from PuzzleMaster!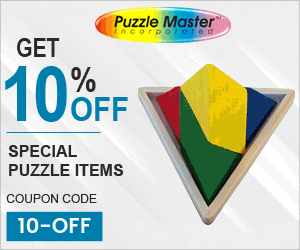 Final thoughts
There is so much more to a puzzle than meets the eye. With this fun activity, your child is learning and achieving so many skills and abilities that will not only prepare him for school but will last him a lifetime. In addition, the time you are spending with your child will make for long-lasting precious memories!
Questions or comments?
Please leave your questions or comments in the comment section below and I will respond to you as soon as I can.
Always yours in searching the best for our babes,
Evelyn